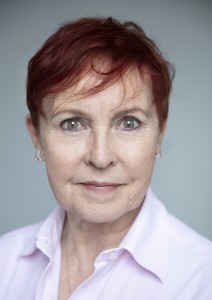 Ann Russell, MA, ALCM, LLCM (TD).
Ann Russell combines a career as an actor and theatre director with her work as a teacher and adjudicator. She trained with the late Deirdre O'Connell at the Focus Stanislavski Studio and spent time too at the Lee Strasberg Film and Theatre Institute in NYC. Ann was awarded an MA in Modern Drama – UCD 2002 and has a Licentiate Diploma (Teaching) from the London College of Music and Drama.
A former teacher and senior examiner with the Royal Irish Academy of Music, Ann formed her own school in 2004. Since then she has developed a highly successful programme for Public Speaking and Presentation Skills and has an outstanding record in training teachers of Speech and Drama.
Ann is a member of ReActors Actors' Agency (www.reactors.ie). In 2019 Ann was delighted to revisit the work of Tara Maria Lovett with her (Whirligig) production of The Tide. This played at The New Theatre and The Dolmen and Whale Theatres. An Irish Tour that was planned for Spring 2020 unfortunately had to be postponed due to Covid 19. We hope to reschedule this for 2021.
Previous roles include Carol in Risk Everything by George F. Walker (TNT and Viking), Romeo and Juliet for Devise + Conquer, in which she played the wonderful part of The Nurse; Elysium Nevada at Bewleys Cafe Theatre and UK/Irish tour which was nominated for an Irish Times award. She devised, directed and performed in A Titter of Wit which played at the Irish Writers' Centre throughout the summer of 2011. Other recent theatre includes Richard 11, Portia Coughan and The Get Together. She toured the UK and Ireland in Marie Jones' hit play Women on the Verge of HRT and toured Ireland with John B. Keane's Moll and the hugely successful The Chastitute with the late Mick Lally. As a member of the Focus Theatre she appeared in many productions including The Secret Rapture (David Hare), The Balcony, (Jean Genet) and the great American classics, All My Sons, (Arthur Miller) Precious Sons, (George Furth) and Awake and Sing (Clifford Odets). Other theatre includes Reading Turgenev for Meridian Theatre, Cork, Dancing at Lughnasa (Punchbag in Galway) and Vampirella and the Company of Wolves at the Project Arts' Centre.
Directing includes This Old Man by Gerard Lee at The Viking Theatre, the highly successful, The Bother with the Brother which was based on the work of Flann O'Brien and performed at Bewleys Café Theatre, A Titter of Wit at the Irish Writers' Centre, Macbeth for the Rathmines Festival, The Stump and The Shape at Focus Theatre, Greatest Hits, Dublin Fringe at Bewleys and Are you Listenin' to me Gaybo? by Mary Halpin which toured throughout Ireland.
Ann has appeared in RTE's Fair City and Roddy Doyle's Family and Ballykissangel for BBC. Film work includes Frankie Starlight and Snakes and Ladders.
Sine Lynch, BBS (Hons) LRIAM.
Síne has over 7 years experience teaching drama at all levels from beginners to preparing students for drama examinations,  film/stage performances and public speaking.  She currently teaches drama in RADE, a community based organisation which staged the critically acclaimed show "the last ten years" at the 2012 ABSOLUT Fringe Festival being nominated for Spirit of the Fringe Award and Best Off Site Production.  She has worked on several live stage productions as director and producer.  Her film production experience saw her producing films shortlisted at the Belfast, Charlie Chaplin and Clones Film Festivals.   She facilitates workshops with Russell Academy, teaching both the associate and licentiate diplomas in drama teaching and public speaking.   Her youth theatre experience includes teaching in the Royal Irish Academy of Music and Drama and Marino Secondary School where she directed the Christmas performance.   She is a member of La Touché Players and an avid Theatre goer.
Síne made the transition into drama teaching in her late twenties. Before this she worked as a sales and marketing executive.  She is originally from Mallow, Co. Cork.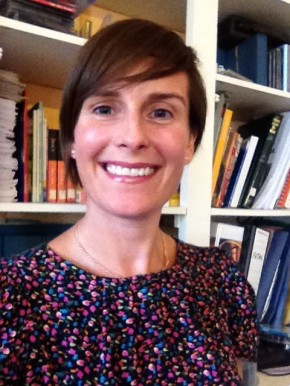 Sara Weis BA (Hons) LRIAM.
Sara trained at the Samuel Beckett Centre, TCD, has a BA in English and Ancient History from UCD and a Licentiate teaching diploma in speech and drama from the Royal Irish Academy of Music. She has trained with many of the leading voice and acting coaches in the world including Enrique Pardo of Pan Theatre in Paris, Professor Mokiev of the Moscow Arts Centre, Kevin Crawford of the Roy Heart Centre in France and Lynda Lee at the Focus Theatre. While in Australia she worked with Freewheels Theatre Company in Newcastle.
She has worked with Olwyn Froure, Aidan Grenell and David Heap in James Coleman's exhibition which toured extensively around the world.
A former examiner at the Royal Irish Academy of Music, Sara has worked as a teacher of drama at many schools in Ireland, teaching adults and children of all ages. Sara continues to perform as a singer and actor.